last night was totally awesome, thanks everyone for coming out. tonight will be a real good one too, don't fear the mildly bad weather.

Sunday 12.13
8:30 Grey Matter Books

MV+EE & the Bummer Road
AM Frank (

Visitations

)
Liz Tonne/Greg Kelley/Vic Rawlings
Cave Bears
Tarp
Jack Callahan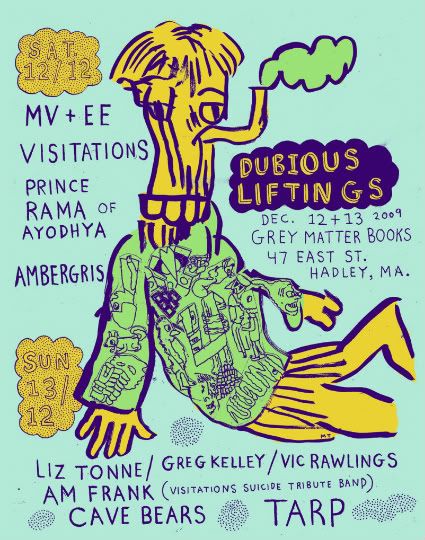 ***CHANGE: MV+EE moved to SUNDAY NIGHT***
THE BODY (Providence, Corleone Records) added to SATURDAY
$5 one night $8 both nights
shows starts at 8:00
early free show Saturday 6:00 @ grey matter books:
flaming dragons of middle earth, ryan fox, candy mountain stranglers, corvallis chehalis
a showcase of out-there-brilliant and underexposed valley talent


dubious info:


MV+EE with Bummer Road mainstays

Visitaions is one of the most pure, amazing, secret, wonderful bands ever! Hailing from Portland, ME they have a few LPs out on Time-Lag and some splits/collabs with Big Blood. Members of the trio are also involved in other projects: Attar Cups, Prisma, Golden Road.... This is their first time down in a while so really don't miss this. They will be playing both Saturday and Sunday nights. Their take on 'psych-folk' is much more reminiscent of the transcendent music being made in the 60's than the technology drenched affairs of today.

Matthew Thurber is a many times published graphic artist whose "1-800 Mice" has brought him a lot of attention. His work has also been featured in Kramer's Ergot, Arthur Magazine, on LP covers and many NYC show posters. He was the frontman/saxophonist of the defunct elevator music ensemble Soiled Mattress & the Springs and performs solo and with band as Ambergris and DJ Tuxedo Laughing Gas



The Body

plays
slow and desperate. sludgy and epic metal.

Prince Rama of Ayodhya will be returning from Europe and saying goodbye to Massachusetts with their Dubious debut


AM Frank is Time-Lag Records' Visitations as Suicide tribute-band, playing covers and originals in the style of Alan Vega and Martin Rev

Liz Tonne, Greg Kelley and Vic Rawlings are somewhat of a super-group of Massachusetts improvisers; expect to hear a pin drop


Tarp is Joshua Burkett and Conrad Capistran making
organic music on electronic instruments antique and futuristic.

Cave Bears i don't wanna go to woodstock
i don't wanna go to woodstock

i don't wanna go to woodstock
i don't wanna go to woodstock
i don't wanna go to woodstock

i don't wanna go to woodstock
i don't wanna go to woodstock
i don't wanna go to woodstock



Flaming Dragons of Middle Earth

lead by the enigmatic danny cruz, "
the concentrated assault on their instruments with musical and nonmusical intention is their ritual theater of transformation. The results of this alchemy can be wildly ecstatic or completely damaging. I have seen them clear rooms and I have seen them get a few folks dancing, but mostly I've seen them clear rooms. The world may not be ready, but every time I see them I am usually paralyzed in amazement by their heavy mist." - the verbose neil young in the valley advocate
Ryan Fox
has probably recorded over one hundred albums in the past four years, none have which have been released. his recordings trace the borders of stoned acid folk, musique concrete, noise and gangsta rap, usually tackling head-on, one genre at a time. expect anything form this live set.
Corvallis Chehalis
hailing from Turners Falls and accompanying himself on acoustic guitar, Bryan Gillig sings literate and impressively concise songs about Jesus and Whiskey